Behind the Brand
About Us
How did it all start?
Our Origins
From the very start, Davy J was created as a circular brand. Named after Davy Jones' Locker – an idiom for the bottom of the sea – Davy J was founded by Helen Lofts, circular economy advocate, economist and winner of Women of the Future Awards for Entrepreneurship. Born and raised around the rural coastline in Devon, the concept for Davy J originates from Helen's passion for the seas, frustrations with suits that can't 'keep up' with her adventurous side and the desire to build a business that looks at resources in a different way.
The brand was launched in 2017 and has since been awarded the Positive Luxury Butterfly Mark, Royal Society of Arts Catalyst Grant for Circular Economy, won the Sustainable Design Awards & has exhibited in the Designer Showrooms at London Fashion Week.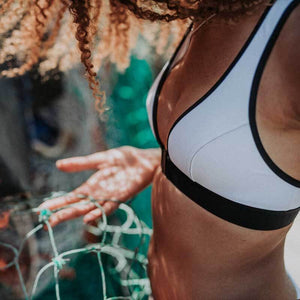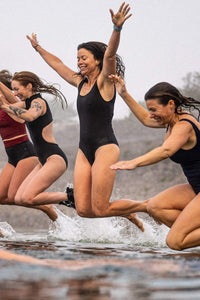 Who we design for & what we do
Creating Beautiful & Practical Waterwear for Real Women
Life is simply too short to be worrying about where your swimwear is sitting and what's on show!
That's why we are the first choice for those who want to do more than just carefully pose by the pool, we've created our collection for women who want to dive in, wild swim, paddleboard, surf, or simply be able to run around after the kids at the beach. As well as sculpting and shaping the body in a way that makes you feel comfortable, confident and looking absolutely fabulous, Davy J suits are designed for timeless style and mix and match designs to suit all shapes and sizes.
Our campaigns champion real women, real bodies and a real love for all things travel, outdoors, wild swimming, paddleboarding, surfing, active holidays and family life. Designed for those unwilling to compromise on style or function - we are the athleisure of waterwear.
We have embedded
Sustainability In Our Supply Chains
Working with suppliers that uphold Davy J's sustainable practices, the carbon life cycle of each of our styles is taken into consideration. The impact of emission heavy processes, such as yarn processing, fabric production and dyeing, are reduced by vendors committed to innovative environmental policies. Davy J's fabric mill only uses renewable energy, produces its own electricity internally (enough to light up 12 Eiffel Towers a year), recycles 83% of its water and 99% of waste from production.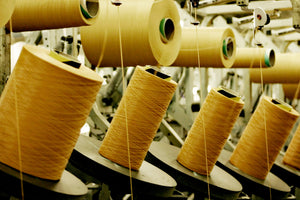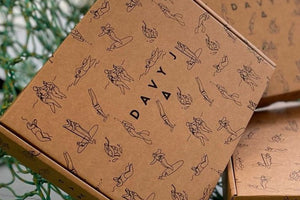 and we're committed to using
Minimum Waste & Recyclable Packaging
Davy J's beautiful packaging has always been plastic-free, and every element - custom tissue paper, bespoke box and paper mailing bag - is 100% recyclable at home. Opting for grass paper for the mailing bags, uses up to 75% less CO2 than standard paper, and can be composted at home, along with the tissue paper. To further reduce their carbon footprint, Davy J uses local suppliers and raw materials from the UK for the gorgeous printed boxes – carefully designed in the hope they'll get a second life in the home or for regifting before recycling! 
Our why
A Drive For Circularity
At the heart of Davy J's mission is the aim of inspiring authentic connections with the ocean and this entails a close connection with nature our natural resources. Davy J aspires to become the first truly circular waterwear brand.
Our debut range – 'The Waste Collection' uses a 100% regenerated nylon yarn made from waste (ECONYL yarn). For every 100 Davy J suits sold, at least 18kg of waste is regenerated, of which 4.5kg are ghost fishing nets collected by volunteer divers and fishing communities in collaboration with The Healthy Seas Initiative.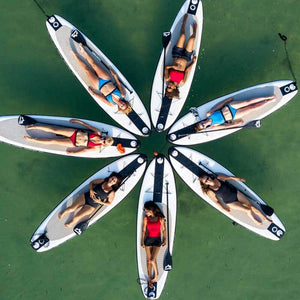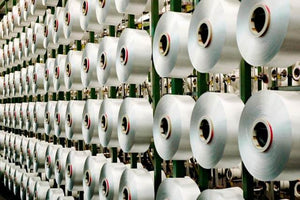 not just that... we're also
Pushing the Barriers of Innovation in Waterwear
Our 'Bonded' Cold Water Swimming Suits & Tops are a new sustainable alternative to neoprene. Using two layers of knitted recycled nylon fabric bonded together to form a piece that performs half way between a wetsuit and swimsuit – giving a little extra warmth for those chillier dips but without the bulk.
Our brand new launch in 2023 – 'The Zero Trace Swimsuit' is made using an innovative biodegradable fabric and paired with a belt made of bespoke printed blend of modal and natural rubber and featuring a buckle made from old Davy J suits. At the end of life, the whole swimsuit will decompose into harmless organic matter and biogas within just 5 years. A great achievement in an industry inundated with horror stories about what is happening to textile waste at the end of its life.
Giving Back &
Sharing The Love
As part of our mission, Davy J commits funds every year to support empowerment and conservation campaigns - past successful campaigns include our raising funds for Coppafeel through the sale of our 'Nippy Tees' to promote breast cancer awareness and ongoing support behind Surfers Against Sewage and their environmental campaigns.