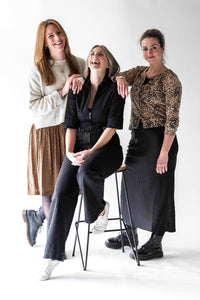 the faces behind the brand
Our Team
We're a small team of three in-house staff at Davy J and we cover all the design, marketing, operations, packing & shipping of all Davy J products.
Helen - Founder, Designer & Lead Creative
Freya - Operations Manager
Harriet - Brand & Marketing Manager
Working Vibes
Our Studio
Working together in our studio in Plymouth, this is where we design and warehouse all our styles. Located on Stonehouse Creek, our waterfront pad is an old Industrial Sail Loft and is situated just down the road from the old Jaegar clothing factory in the heart of Industrial Plymouth.